The Most Powerful Data and Build Preparation Software
Materialise Magics is a versatile, industry-leading data preparation and STL editor software for Additive Manufacturing that allows you to convert files to STL, repair errors, edit your design and prepare your build platform. Ready to prepare your model for 3D Printing?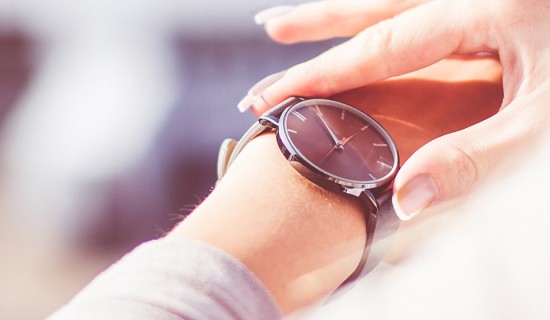 Spend Your Time Wisely
This extensive and user-friendly toolbox will help you to save time on data preparation, printing and finishing, thereby significantly reducing the lead time of your projects.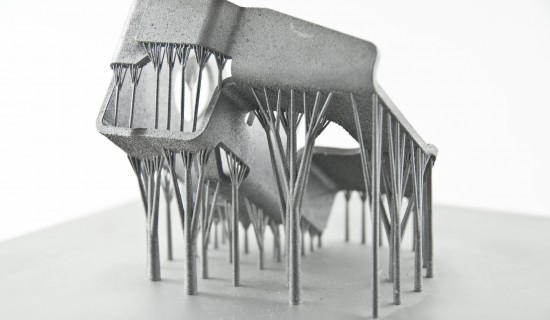 Maximize Your Success Rate
Smart data preparation leads to less material usage and a higher amount of successfully printed parts. Reduce your data preparation costs today.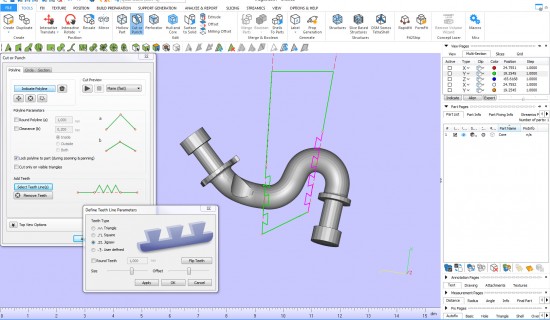 Access the Industry Standard
Materialise Magics is the top data preparation software choice for companies and industries worldwide. Tap into our decades of 3D printing software expertise.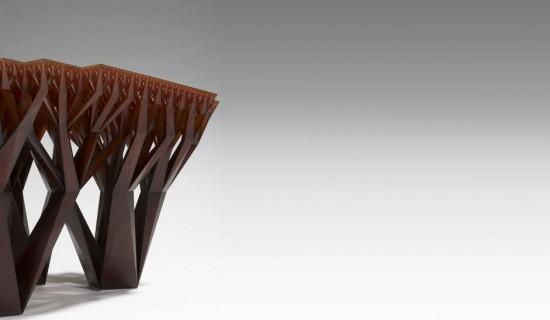 Independent Software
No matter what combination of printers you have, with Materialise Magics, you and your team only need to adopt one software to prepare parts for 3D Printing.
MODULES
According to your needs, additional modules will help you take your data preparation and printing process to the next level.
SINTER MODULE
To make your Laser Sintering business time-and cost-efficient, we developed the Materialise Magics Sinter Module.
The Magics Sinter Module is equipped with a powerful multi-core nesting algorithm that will automatically nest your parts in no time. With this algorithm, you can save approximately one hour for each build and thereby reduce your personnel costs by €5,000 (1h/build x 100 builds x €50/h) per year. To protect small and fragile parts, and easily retrieve them after building, you can build a crate around them with the Sinterbox function.
With Materialise Magics Sinter Module, you can:
Nest parts quickly and automatically on multiple platforms
Control the build time, height and density
Avoid interlocking and colliding parts
Create protective crates
Re-nest from an existing configuration
SIMULATION MODULE
The Materialise Magics Simulation Module, based on Simufact Additive technology, is designed to bring high-end simulation capability to AM production sites. The user-friendly module empowers every metal AM operator to easily assess potential build errors, without the need for specialized simulation expertise. Since the simulations are seamlessly integrated with Materialise Magics software, you have all the tools at your fingertips to further optimize your virtual build platform. Having both reliable simulations and the ultimate AM data preparation toolbox in one application allows you to print it right the first time, fast and efficiently. Without simulation software, it can take several expensive test prints to find the right orientation, support design and machine settings for your 3D model. With this software extension, you'll be able to analyze how the digital twin of your metal part would behave during production. This is useful for every metal part you produce, and even more so for series production and high-value, customizable components with complex geometries.
With the Simulation Module, you can:
Predict areas prone to deformation, overheating and residual stresses
Reduce the risk of build failures and make test prints redundant
Speed up the search for the best parameter sets to build your parts
Modification of support and orientation based on simulation results
Counter-deform your parts to avoid deformations arising from the printing process
SUPPORT GENERATION MODULE FOR METAL (SG+)
In Additive Manufacturing for metal applications, support structures fulfill a larger purpose than just supporting a part during the build process. An optimal support generation for metal also minimizes deformation, prevents build crashes and reduces post-processing work.
The Magics SG+ Module offers you all the tools needed to find the optimal orientation of your part, the right type of support, good anchoring, heat transfer and more. With the guidance of the Magics SG+ Module, printing metal parts is no longer a big challenge.
With Materialise Magics SG+ Module, you can:
Conduct heat and avoid deformation
Optimize part orientation
Recuperate powder
Reduce build failures with build validation tools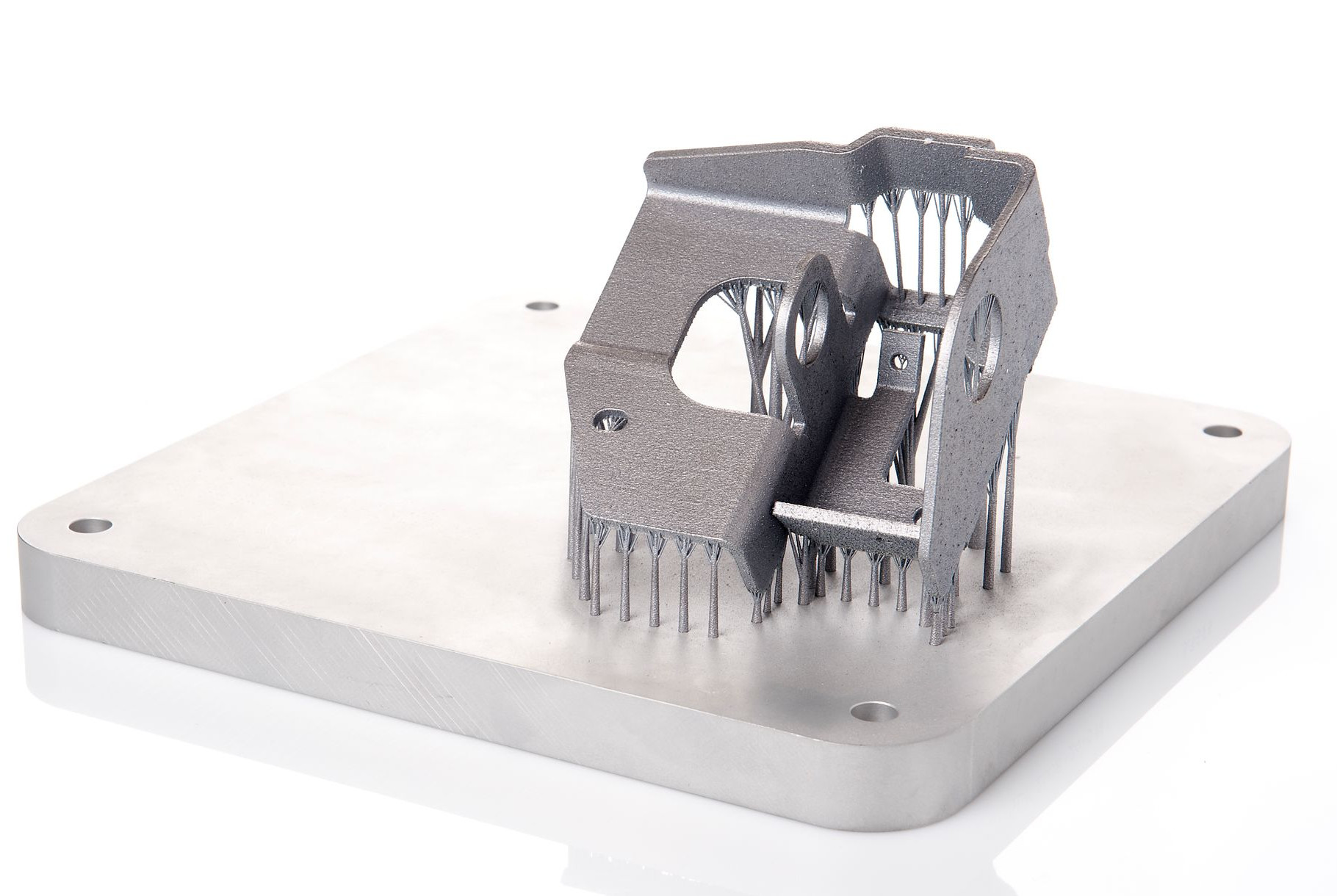 STRUCTURES MODULE
The Materialise Magics Structures Module is designed to help you reduce the weight and material usage in your designs. Whether you wish to hollow a part and fill it with a lightweight structure; convert a part to a lattice structure or create functional surfaces, the easy-to-use wizard in our Structures Module will guide you through every step of the way.
With hollowed designs, the Materialise Magics Structures Module enables you to add holes so that excess powder can be removed. The module features a structures library and can be used to alter structures to meet a variety of objectives, including saving powder, controlling the temperature, reinforcing your design and much more.
With Materialise Magics Structures Module, you can:
Lower your powder consumption and production costs
Add strength to the parts
Reduce distortion (due to the heat generated during the build process)
Create porous designs
Design your own unit cell structures to create a lattice structure
SUPPORT GENERATION (SG) MODULE
More than 25 years ago, Materialise started with just one Stereolithography machine. And from the very beginning, it was clear that intelligent software was needed that could deal with issues in the area of support. The Materialise Magics SG module was introduced as a solution, and today offers the most complete support generation toolbox for Stereolithography on the market.
With Materialise Magics SG Module, you can:
Easily identify critical support areas
Reduce data preparation time with semi-automatic support generation
Create and optimize adequate structures for different types of geometry
Save building time and material with non-solid, single-line, optionally perforated supports
Stay in control of all of your parameters
Choose from a complete gallery of support structures
TREE SUPPORT MODULE
You want to make sure that your small and delicate 3D-printed items come out just the way you designed. This is where the Materialise Magics Tree Support Module comes in. Not only does tree support hold your object tightly in place during printing, but the trunks and branches also connect to each other, with only minimal contact to your print. This provides easy break-off points and reduces the time needed for post-build processing.
With Materialise Magics Tree Support Module, you can:
Improve the surface quality of metal prints
Prevent part deformation with enhanced heat conduction systems
Save time on finishing
Use trees to create inlets in your lost-wax mold
IMPORT MODULE
Materialise Magics bridges the gap between CAD files and 3D printers by importing nearly all standard CAD formats, and packages such as SketchUp, SolidWorks or Rhino as well as traditional ones. With the Magics Base License, you can import more than 15 CAD file formats. If you want to convert an even wider range of file formats to STL, the Materialise Magics Import Module is what you need.
| | | | | |
| --- | --- | --- | --- | --- |
| Magics Base License | Import | Texture Support | Color Support | Export |
| AMF | ✔ | | | ✔ |
| DAE | ✔ | ✔ | ✔ | |
| DXF | ✔ | | | ✔ |
| FBX | ✔ | ✔ | ✔ | |
| OBJ | ✔ | ✔ | ✔ | ✔ |
| 3D PDF | | ✔ | ✔ | ✔ |
| PLY,ZCP | ✔ | | ✔ | ✔ |
| SKETCHUP | ✔ | ✔ | ✔ | |
| STL | ✔ | | ✔ | ✔ |
| VRML | ✔ | ✔ | ✔ | ✔ |
| X3D | ✔ | ✔ | ✔ | ✔ |
| ZPR | ✔ | ✔ | ✔ | ✔ |
| 3DM(RHINO) | ✔ | ✔ | ✔ | |
| 3DS,PRJ | ✔ | ✔ | ✔ | |
| 3MF | ✔ | ✔ | ✔ | ✔ |
| | | |
| --- | --- | --- |
| Optional Import Module | Import | Color Support |
| CATIA4 | ✔ | ✔ |
| CATIA5 | ✔ | ✔ |
| CATIA6 | ✔ | ✔ |
| IGES | ✔ | ✔ |
| NX (UNIGRAPHICS) | ✔ | ✔ |
| PARASOLID | ✔ | ✔ |
| PRO/ENGINEER | ✔ | ✔ |
| SAT | ✔ | ✔ |
| SOLIDWORKS | ✔ | ✔ |
| STEP | ✔ | ✔ |
| INVENTOR | ✔ | ✔ |
| JT | ✔ | ✔ |
| VDA | ✔ | |
TETRASHELL MODULE
Traditional metal investment casting is a long and risky process. Much time is lost during the tooling phase, a wrong assembly of the wax can cause an incorrect coating and the wax may sag during the investment phase. With Tetrashell by SOMOS®, all these risks fade away. Transform a solid CAD design into a robust, hollow STL model for any Stereolithography equipment worldwide.
On the one hand, the software facilitates and shortens the investment casting flow. On the other hand, it offers a cost-efficient and reliable way to produce strong lightweight parts. Tetrashell has a wide field of applications, ranging from aerospace, to electronics and orthopedics.
Why go for Tetrashell by SOMOS®?
Prevent assembly errors
Shorten the design evaluation from months to days by eliminating the tooling phase
No longer invest in casting tools
Achieve best-in-class quality
Experience impressive user control
PRODDUCT INFORMATION
IMPORT
With Materialise Magics, you can import an impressive number of file formats, including color and texture information, as well as staying in control of your original data.
The following import formats are included in Materialise Magics:
VRML (*.wrl, *.vrml, *.x3dv), Rhino (*.3dm), Sketchup (*.skp), OBJ (*.obj), 3DS (*.3ds, *.prj), PLY (*.ply, *.zcp), ZPR (*.zpr), FBX (*.fbx), COLLADA (*.dae), X3D (.x3d), 3MF (*.3mf), DXF (*.dxf), STL (*.stl)
REPAIR
For a good print, you need high-quality 3D designs. To achieve this, Materialise Magics includes the best repair tools:
Solve the most common problems in one click with Autofix
Let the Fix Wizard guide you through the fixing process step-by-step when facing complex errors
Maintain full control with manual tools
Repair architectural models and add thickness with ShrinkWrap (i.e. a thin layer is wrapped around the original model and shrinks afterwards, repairing all errors)
EDIT
Materialise Magics offers a wide range of easy-to-use editing features, targeted towards 3D Printing. With our toolset you can:
Hollow and perforate your parts (including self-supporting hollows)
Cut with advanced cutting lines
Perform powerful Boolean operations (Unite, Subtract, Intersect)
Apply text and image labels
Turn surfaces into printable solids
Modify the geometry of your parts with the extrude and offset tools
Mark triangles, surfaces or entire shells rapidly and accurately
COLOR AND TEXTURES
Easily apply textures or colors on marked areas, and edit them to suit your needs. Our algorithms are optimized to preserve textures and colors while working with data.
BUILD PREPARATION
Prepare platforms in a fast and efficient way thanks to our advanced positioning tools and machine management:
Visualize your 3D printers in Materialise Magics, so you can see how many parts will fit
Easily achieve the exact position, rotation and size that is required with user-friendly and powerful Translate, Rotate, Rescale and Mirroring tools, as well as the shape sorter
Choose where the part shouldn't be positioned by creating no-build zones
Use automatic placement to save time when preparing a build with many parts
ENHANCE MESH
To create a watertight mesh (i.e. a network of triangles representing your model) that is easy to edit, you can rely on mesh enhancement tools:
Remove unnecessary triangles with Triangle Reduction.
Smooth your mesh without losing details you want to preserve.
ANALYZE AND REPORT
Materialise Magics contains measurement and analysis tools to ensure the quality of your printed parts. Reports and 3D PDFs are also among the possibilities.
Make sure all features of the part are thick enough to print.
Check for colliding parts or parts outside the printer's platform.
Ensure that the deviation between the 3D model and printed part stays within your predefined tolerances.
Measure any feature of your part.
Generate 3D PDFs and reports to efficiently communicate with your clients. Easily embed parameters of parts in your reports by linking it to your Word or Excel files.
VISUALIZE
Visualization tools are important for working fluently with any 3D application. Materialise Magics has everything you could expect, including:
Different shading modes (Shade, Triangle, Wireframe, Transparency) which can be applied to parts individually.
Highlighting errors in parts.
The possibility to make advanced sections of your parts.
Slice preview.
CUSTOMIZE
The Materialise Magics user interface is extremely customizable, so you can tweak it exactly to your needs:
Hide functions and tabs you don't use.
Make your own ribbons, toolbars and context menus.
Assign shortcuts to your frequently used functions.
Change colors to your preferences.

Bridging the Gap between 3D Printers and Software
3D printing machines are complex works of art that require machine parameter knowledge to get the desired result. The Materialise Build Processor is the technology within the Materialise Magics 3D Print Suite that takes care of communication between software and 3D printing machines, reducing the complexity of 3D Printing for you. Discover its extensive range of machine-specific and technology-neutral solutions.
Why Choose the Materialise Build Processor
Rely on the Machine Communication Standard
To communicate your file to the printer, you need specialized software. The Materialise Build Processor is considered the standard software for communicating with and monitoring AM machines.
Discover the Full Platform
Our offer is not limited to machine communication software. You can benefit from the integration with data preparation and other software from the Materialise Magics 3D Print Suite.

Benefit from Our Partnerships
Materialise has strong partnerships with the majority of leading AM machine manufacturers. This means that we can update our software in line with the developments of machine manufacturers.
Easily Handle Huge Files
Do you experience difficulties with handling large files? Our slice-based technology avoids large files by skipping the demanding triangularization to an intermediate STL file and generating the desired geometry on the slice level.
Extra Benefits
Easy Commercialization
Reduce the time to market of new AM machines and solutions.
Create build profiles for regular and expert users and brand.
Build Processor according to your corporate identity.
Discuss joint marketing and sales opportunities with us.
Research Applications
Fully control your parameters through the flexible, extended R&D parameter structure.
Control slicing and hatching with highly performing algorithms, connected to an advanced slice viewer.
Quickly handle very complex parts and platforms.
User-Friendly
Easily connect with other products from the Materialise Magics 3D Print Suite.
Do complex calculations on a dedicated server with remote processing.
Benefit from second line support and regular software updates.
Optional Integration of Materialise Inspector
Validate your generated tool paths prior to the AM process with Materialise Inspector.
Optional Connection to the Materialise Control Platform
Control and steer your laser-based AM machine with the Materialise Control Platform.
Discover how the HP-Materialise alliance served to develop the HP Build Processor
The HP Build Processor establishes a seamless connection from the software to the printer. The benefits include a simplified workflow for the user (with the possibility to assign the available 3D printer-specific build styles to the platform), as well as the possibility of creating build jobs for all of the HP Jet Fusion 3D printers. These advantages come in a single, aesthetically-pleasing software package.
By serving as the middle-man in the process, the HP Build Processor takes care of platform preparation and communicates the data from the Magics 3D Print Suite to the 3D printer. It combines perfect data preparation, design and build setup as well as part building on the HP Jet Fusion 3D printer. In addition, the HP Build Processor (integrated with Materialise Streamics) enables feedback from the machine control system, supporting build tracing and build data storage, thus meeting the requirements of manufacturing environments.
∗ Specifications subject to change without notice.
∗∗ Material dependent.